Indian Army Recruitment Rally 2020-21
Indian Army Recruitment Rally 2021  
Indian Army Recruitment Rally 2020- 21 invites online Male Applications for various states. Eligible Candidates can Apply Online by below Given the last Date.
Application Fee – 
No Application Fee will be charged for Indian Recruitment Rally.
Vacancy Details – Post Name | Age Limit | Qualification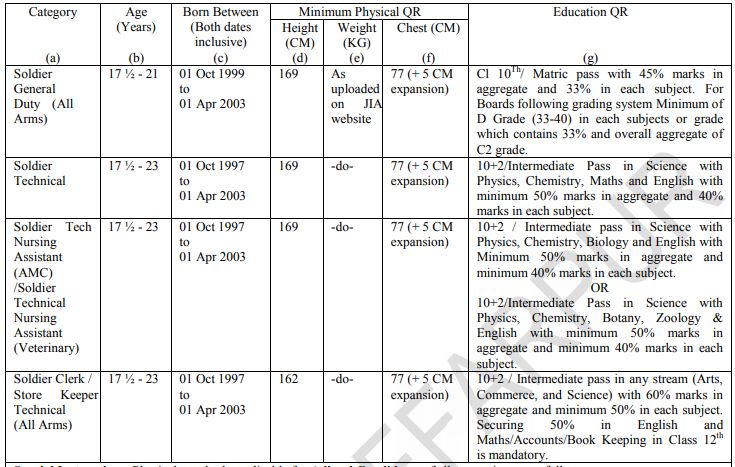 Physical Fitness Test (PFT) for Indian Army Recruitment Rally – 

Documents Required for Indian Army Bharti Rally 2020-21
The Candidates should bring the original and self-attested photocopies of the following documents in the Rally. Candidates are required to bring following documents / certificates in original with two attested photocopies with them to the rally site. If any candidate do not produce documents as per format mentioned below on the day he is being screened, he will be REJECTED :-
High School (10th) Marksheet and Passing certificate
Intermediate (12th) Marksheet and Passing certificate
Residence certificate (Domicile)
Caste Certificate
If the candidate's religion is not mentioned in the caste certificate then a religion certificate is required, it will be issued by Tehsildar/SDM.
School character certificate (or character certificate from candidate's last education institute).
Character Certificate with photograph issued by the Village Sarpanch / Municipal Corporation / Police issued within last six months.
An unmarried certificate with photograph issued by the Village Sarpanch/ District Administration issued within last six months (if candidate is below 21 years of age).
Relationship Certificate ( in case Son of Serving soldiers/ Widows/ War Widows and Ex-servicemen).
NCC A, B, C certificates if candidate is a NCC student.
Sports Certificate if the candidate has appeared in the following
Computer Certificate- if the candidate has a O+ level certificate "Business Professional Certificate" issued by the DOEACC society.
16 latest passport size photographs not more than 6 months old with name and date printed on bottom of the photograph. Both the ears of the candidates must be visible on the photographs. Sikh candidates must have photographs with and without turban.
All candidates are advised to bring a affidavit duly signed by the candidate on a stamp paper and attested by a Notary.
Army Rally Recruitment State Wise Notification – Check Here
Recruitment Board
Last Date
Download Notification

Army Recruiting Office, Jorhat

Assam

23 January 2021

Click Here

Army Recruiting Office, Calicut

Kerala

02 February 2021

Click Here

Army Recruiting Office, Katihar

Bihar

02 February 2021

Tradesmen | Soldiers

Army Recruiting Office, Gaya

Bihar

02 February 2021

Tradesmen | Soldiers

Army Recruiting Office, Pithoragarh

Uttarakhand

30 January 2021

Click Here

Army Recruiting Office, Almora

Uttarakhand

30 January 2021

Click Here

Army Recruiting Office, Danapur

Bihar

14 January 2021

Tradesmen | Soldiers

Army Recruiting Office, Muzaffarpur

Bihar

14 January 2021

Tradesmen | Soldiers

Army Recruiting Office, Jamnagar

Gujarat

18 January 2021

Click Here

Army Recruiting Office, Silchar

Assam

05 January 2021

Click Here

Army Recruiting Office, Belgaum

Karnataka

18 January 2021

Click Here
Army Recruiting Office, Ghoom West Bengal

07 January 2021

Click Here

Army Recruiting Office, Siliguri

West Bengal

28 December 2020

Click Here

Army Recruiting Office, Jalandhar

Punjab

28 December 2020

Click Here
| | |
| --- | --- |
| ARMY RECT RALLY, ARO JODHPUR, RTG YR 2020-21 | Download |
| REVISED NOTIFICATION FOR ARMY RECRUITMENT RALLY FOR MEN BY ARO JAMNAGAR | Download |
| Army Recruitment Rally ARO Kota for Sepoy D Pharma and Sol NA/NA Vet | Download |
| Army Recruitment Rally : ARO Alwar for Sol Clk, Sol NA/NA Vet and Sepoy D Pharma | Download |
| Army Recruitment Rally : ARO Jhunjhunu for Sol GD, Sol Tech, Sol Tdn (8th and 10th) | Download |
| Army Recruitment Rally : ARO Jhunjhunu for Sol Clk/SKT, Sepoy D Pharma and Sol NA/NA Vet | Download |
| Army Recruitment Rally : ARO JODHPUR FOR SEP D PHARMA, Sol NA/NA(VET) | Download |
| ARMY RECRUITMENT RALLY FOR SOLDIER TECHNICAL AT PADDAL GROUND MANDI(HP) FROM 06 OCT- 14 OCT 2020 | Download |
| RALLY NOTIFICATION FOR SOL TECH CATEGORY OF ARO PALAMPUR AT PADDAL GROUND MANDI | Download |
| Army Recruitment Rally for RO HQ for Sol NA / NA Vet and Sepoy D Pharma | Download |
| ARMY RECRUITING OFFICE : HAMIRPUR (HP) ARMY RECRUITMENT RALLY FOR SOLDIER TECHNICAL CATEGORY | Download |
| BANGALORE RO(HQ) RALLY NOTIFICATION FOR BANGALORE RALLY | Download |
| ARMY RECRUITMENT RALLY AJMER 2020-21 ARO KOTA | Download |
| ARMY RECRUITMENT RALLY AT CAPT SUNDER SINGH STADIUM, FEROZPUR CANTT 15 SEP TO 24 SEP 2020 | Download |
| ARO Jaipur Recruitment Rally 2020-21 | Download |
| ARO, HISAR RALLY NOTIFICATION 2020-21 | Download |
| HISAR RALLY 2020-21 | Download |
| ARMY RECRUITMENT RALLY AT 1 ADSR GROUNDS, PATIALA | Download |
| AMENDMENT TO DATES OF RECRUITMENT RALLY RO (HQ) AMBALA | Download |
| Army Recruitment Rally at Kargil, 29 Sep to 04 Oct 2020 | Download |
| ARO Mandi Recruitment Rally at Paddal Ground Mandi from 01 Jun 2020 for Cat Sol GD & Sol CLK/SKT | Download |
| Army Recruitment Rally at Sonarwani, Bandipora 18 May to 29 May 2021 | Download |
| ARO LANSDOWNE ARMY RECRUITMENT RALLY AT KOTDWARA | Download |
| ARMY RECRUITMENT RALLY (FOR MEN) AT NDH, HIGH SCHOOL, DEVBHUMI DWARKA AMENDMENT IN DATES | Download |
| RO HQ AMBALA RALLY NOTIFICATION | Download |
| FRESH SCHEDULE OF RECRUITMENT RALLY -DELHI & NUH GRURGRAM FARIDABAD AND PALWAL DISTRICTS OF HARYANA | Download |
| FRESH SCHEDULE RECRUITMENT RALLY-DELHI & GURUGRAM, FARIDABAD NUH AND PALWAL OF HARYANA | Download |
| Army Recruitment Rally at ALG Rajouri, 11 Dec to 22 Dec 2020 | Download |
| ARO, MANGALORE RECRUITMENT RALLY AT UDUPI(K'TAKA) FROM 08-18 JAN 2021 | Download |
| Army Recruitment Rally at Dholewal Military Station Ludhiana from 07 April 2020 to 16 April 2020 | Download |
| RECRUITMENT RALLY FOR SEPOY PHARMA AT PADDAL GROUND, HP FROM 01 NOV TO 06 NOV 19 | Download |
Apply Online – Click Here
Download New AffiDavit Format – Click Here
Official Website – Click Here